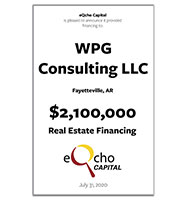 WPG Consulting LLC
Fayetteville, AR
$2,100,000
Real Estate Financing
Funded Date: July 31st, 2020
Transaction Overview: Happy Hallows (operating entity), a wholesale distribution company, needed funds to for equipment, and cash needed to move to profitability.
Significance of Transaction: Cash was received at good terms, and conditions.
eQcho Capital's Role: We structured a construction / bridge loan for the borrower using the property as collateral.
About The Company
The company will be submitting information shortly. Stay tuned for updates.