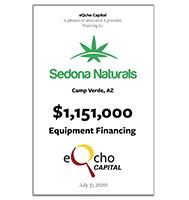 Sedona Naturals, LLC
Camp Verde, AZ
$1,151,000
Equipment Financing
Funded Date: July 31st, 2020
Overview of the Transaction: Sedona Natural, LLC was in need of some equipment for its industrial facility located in a town outside of Camp Verde, AZ. Intent is to manufacture edibles, topicals, drinks, and tinctures in this facility.
Significance of Transaction: In order to become vertically integrated, PJV needed the necessary equipment to extract the THC from the cannabis flower. This transaction helped get them that equipment.
eQcho's Role: We helped facilitate the negotiations between the investor and PJV, and ultimately getting PJV exactly what they needed.
About The Company
Sedona Naturals has been a significant player for 30 years in the Nutraceutical Industry. Starting out as a salesman. Becoming a independent sales force, coming one of the top national sales forces. We then moved into logistics, and distribution nationally, then we went international. Then we got into product formulation. After Consulting the industry for 5 years in sales and formulation, we decided to create our own product line.
We created a unique nutraceutical product line. Our products deal with energy, detoxification, muscle growth and holistic balance. We have many testimonials where our products have been life changing to people. In 2015 through our research network, we were introduced to CBD. We decided that even though it was not legal at the time, it was worth learning about. Of course, the results were amazing.
With the growing potential of CBD, it made full sense that we would move into the CBD / Hemp Industry. We discovered the many uses of it. With our formulation background, we started looking at creative ways CBD uses can be enhanced. After many attempts we came up with several unique products. And then it happened, the government made CBD legal. We immediately got licensed in the State of Arizona for Processing, Cultivation, transportation and Distribution.
Shortly after we started, ​​​​​​​we figured out that in order to consistently be able to produce a top-level product, you had to control how your hemp plants were grown. Also, once grown how you produced the oil from the product is important. We learned how to grow and also how to process the oil to make the product. Now we are totally vertically integrated, from seed to sell.
We have now become a top-level Hemp Processor, as well as a top CBD Product producer. We are also about to start growing full time. We are looking to expand our client base in both Extraction Process and Product Formulation. Working our way to becoming an industry leader in both. As far as cultivation, we will only produce the finest hemp, so that we can produce the finest CBD products.