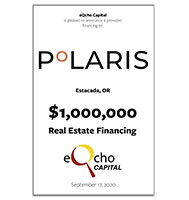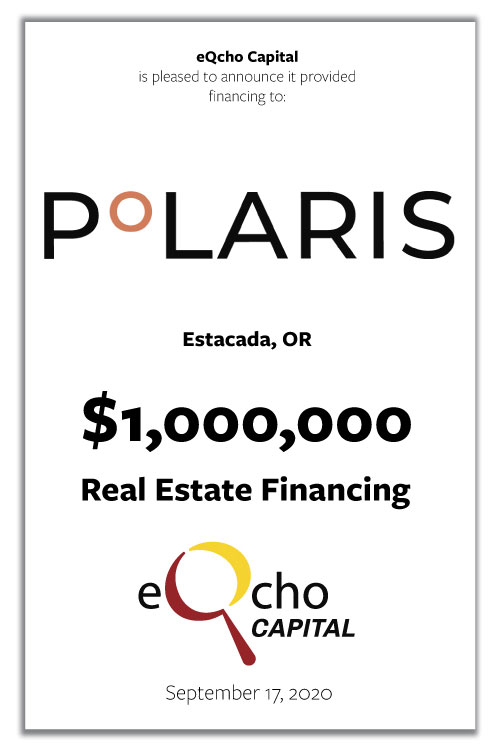 PoLaris CBD
Estacada, OR
$1,000,000
Real Estate Financing
Website: https://polariscbd.com/
Funded Date: September 17, 2020
Transaction Overview: Estacada Leasing Company, LLC was formed to hold the real estate of the PoLARIS.
Significance of Transaction: The borrower needed financing to buy hemp, and process for the customers.
eQcho Capital's Role: We structured and packaged the deal for the borrower to achieve his capital needs. We guided them through the process, advised them on terms of the loan and made sure they had the cash they needed for their business.
About The Company
Polaris Innovations was founded to provide affordable, effective, high-quality CBD solutions to a broad customer base. We provide processing services for farmers, support CBD businesses with bulk CBD extracts, formulations and packaging solutions, and offer Polaris products at the retail and wholesale level. Polaris Innovations is playing a significant role in establishing the standards for CBD businesses around the world. Founded by a passionate and experienced team we understand the steps needed to provide quality services and products to our customers.
Located in Estacada, Oregon, using state-of-the-art equipment and facilities, we are prepared to support national and international markets. Polaris Innovations runs a solution-oriented enterprise that actively enriches the lives of others through our commitment to the distribution and development of only the
highest quality CBD solutions. We hold the capacity, equipment and expertise to effectively fulfill most bulk, retail or toll processing CBD services you might find yourself in need of.
As stewards of this industry we work hard to bring legitimacy to CBD while increasing its accessibility and quality. We strive to understand the efficacy of CBD and what it can do to transform lifestyles and promote healthy living. The CBD market demands a tremendous level of responsibility, transparency, and integrity – Polaris Innovations not only sets that standard but consistently tries to raise it.