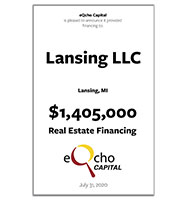 Lansing LLC
Lansing, MI
$1,405,000
Real Estate Financing
Funded Date: July 31st, 2020
Overview of the Transaction: Lansing is looking to expand their operations, and in order to do so, needed financing. With this money, Lansing will be able to expand and ultimately grow their business. The horizon is open for this cannabis company.
Significance of Transaction: This financing will help foundational retail expansion and first-mover advantage in the lower cost, scaled hemp terpene production through easily activated cultivation licenses that will drive higher vertically-integrated margins."
eQcho's Role: We helped facilitate the negotiations between the investor and Lansing, to the benefit of Lansing. Although the initial conversations were about a different form of financing, we were able to match our client's wants with the investor's needs.
About The Company
The company will be submitting information shortly. Stay tuned for updates.