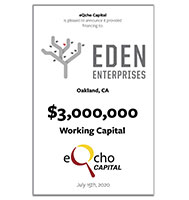 Eden Enterprises
Estacada, OR
$3,000,000
Working Capital
Funded Date: July 15th, 2020
Overview of the Transaction: Eden Enterprises is looking to expand their operations, and in order to do so, needed financing. With this money, Eden will be able to expand and ultimately grow their business. The horizon is open for this cannabis company.
Significance of Transaction: This financing will help Eden "[move forward with] a foundational retail expansion and first-mover advantage in the lower cost, scaled hemp terpene production through easily activated cultivation licenses that will drive higher vertically-integrated margins."

eQcho's Role – We helped facilitate the negotiations between the investor and Eden Enterprises, to the benefit of Eden. Although the initial conversations were about a different form of financing, we were able to match our client's wants with the investor's needs.
About The Company
Eden Enterprise's is a team of industry veterans pursuing excellence and innovation from production through retail of modern cannabis. Cannabis, in our sphere of influence, captures both traditional cannabis and industrial hemp verticals.
Founded in 2003, Garden of Eden is one of the oldest dispensaries serving the Bay Area, and is consistently ranked as a top cannabis retailer in the great state of California. The founding location is a beacon for industry insiders and new users alike, offering a fully curated selection of the best flowers, edibles, vape pens the market has to offer. Garden of Eden has been the leader in retail differentiation, an approach that has loyal customers coming back year in and year out. Our manufacturing, cultivation, and distribution business units support Eden's strive for excellence. Our vertically integrated supply chain enables us to deliver a higher quality experience to the customer while delivering an unparalleled value to our customers. In 2021, we will expand our retail footprint in Southern Alameda County with our Union City and Sunol locations.
In 2019 we launched Terpene Belt Farms, our cannabis derived terpene business. Seeing the opportunity to scale outside of the regulated cannabis market, we leveraged the 2018 Farm Bill to grow low-THC cannabis for the sole purpose of extracting the terpenes. Today, we are first in cannabis derived terpene production, legally exporting the spirit of california cannabis anywhere in the world.